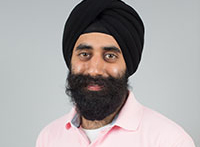 What does being a clinician–scientist enable you to do that being only either a doctor or a researcher doesn't? Well, we may be left, in an age when it seems technology is advancing by leaps and bounds and when we can Google the answers to any question that comes to mind, with the impression that medical research, too, is progressing steadily and evenly. But in fact there are huge gaps between the level of information available about one health issue to the next. Indeed, "translating research evidence into clinical practice continues to be a major challenge in Canada and around the world," adds JP Singh, a recent addition to Queen's MD/MSc program. But the innovative Queen's program and its students like Singh are joining the vanguard of healthcare professionals dedicated to changing that. "As a clinician scientist," says Singh, "I'll be at the interface of both domains with both a research and clinical background, and thus, will be ideally suited to help translate evidence into practice." It's a big challenge, and one he's looking forward to.
Having worked for the past several years as a Research Manager at Ottawa's CT Lamont Primary Health Care Research Centre (CTLC), Singh oversaw the research operations of several studies related to health services research––his largest contribution involving "the management of an initiative aimed at improving cardiovascular disease care in family practices in Eastern Ontario." There, he also had "the great fortune" of working with several talented and accomplished clinician–scientists, which let him see first hand the impact that someone in this position can make. Singh's own interest is in studying how to organize primary care in order to ensure optimal and equitable care delivery. He also wants to design innovative approaches for reducing wait times in emergency rooms.
Singh's research component is going to be supported by the Department of Community Health and Epidemiology. The MSc at Queen's is actually his second; Singh holds a Master's degree in Biomedical Engineering from the University of Toronto, where he also earned his undergraduate degree in Chemical Engineering. One of the many things that drew him to Queen's, he says, was "the amazing clubs and activities" that are available to students. "I am still in the process of exploring all of these wonderful opportunities, but I will definitely take part in intramurals for sports such as volleyball, soccer, badminton, and hockey." Singh is a Montreal Canadiens fan who grew up playing the game, and has participated in several men's leagues as an adult.
Aside from his "deep passion" for ice hockey, Singh is also active in charities that give back at the level of local community and around the world. Over the years, he has made several trips to India to volunteer at a community health clinic that provides free care and medications for those who are unable to afford it. He has also worked with other organizations providing support in areas such as youth education, human rights advocacy, health care, and overseeing social clubs for the elderly in his community.
For the future, Singh is excited not only about continuing to help people in his community as an MD, but also about making new discoveries that could impact lives across the country––perhaps even the world––as a researcher. Mirroring the balance struck between the dual aspects of his career, he envisions "spending time with family and raising my children with the same values that my parents instilled in me" as well as "seeing the world" and choosing projects that will let him travel widely.